In previous years it was a fight between Myspace and Facebook, with Facebook coming out on top. Since then we've had the Apple vs Microsoft saga and even Harry potter vs Twilight. It now looks like the age of the social media platform battle is back, and will be bigger than any seen previously.
Twitter vs Insatgram.
The battle is rife with sabotage, exploits and back handedness in the press surrounding the feud between to the two multi-million-money-making moguls. With Twitter quite publicly disabling images from Instagram, it seems that the blue-bird company took personal offence to not winning the bid to buy the photo sharing business. Limiting access between the two sites is something that is now becoming more and more futile and until recently, members of each site haven't been bothered by the bickering. Now it's beginning to effect the users' interaction and we think it will only be a matter of time before you can only use one without the other. Replicating features is another concern of users, as well as the limited access between the two. As mentioned, when snapping a pic on Instagram and wishing to share on Twitter depicts a very strange image on the status site. This is taking competitive to a whole new level.
It seems like the days of bitchiness behind closed doors is over and a full blown media war is occurring right in front of our, the consumers, eyes! As a user of both the sites, it makes it difficult to choose which way I would swing if the need ever came to it. Would I want to engage with people's words or images more? Do I care what people are talking about or would I rather see what they are? Decisions, decisions. Whilst Twitter certainly has the sheer number and has been around slightly longer than Instagram, the photo-capturing site has the big boys of Facebook backing them. Facebook integrated their applications with that of Instagram, recognising that their users had a want and need to share their photos on the site.
Both Instagram and Twitter have a substantial following and as mentioned, neither 'side' of consumers have been bothered until now. Corruption and disabling, blocking and lack of consistency are beginning to wane with the users and the on-going feud is being called to make up or break up for good. Instead of working together however, it seems neither side are backing down, and with such a competitive space they are competing for, it looks like it may be a battle to the death. Where does your loyalty lie? Whilst the sites can't find solace in the fact that users are and are wanting to use both sites together, we can certainly begin to understand the sheer importance and power that we, the consumers must have.
Thanks to the recent little matter of an election, Twitter has really proved its worth as a reputable news stand; largely thanks to the embracing nature of the man who yesterday, was re-elected back into office for a second term. Barack Obama has welcomed Twitter with open arms from his first electoral campaign, and has really proved the site and its news influence over the last few months, and certainly the last day.
With Twitter receiving the first announcement of his win before he stepped onto the podium in Chicago to address the nation and confirm the victory. He tweeted moments before he took to the stand, "This happened because of you. Thank you."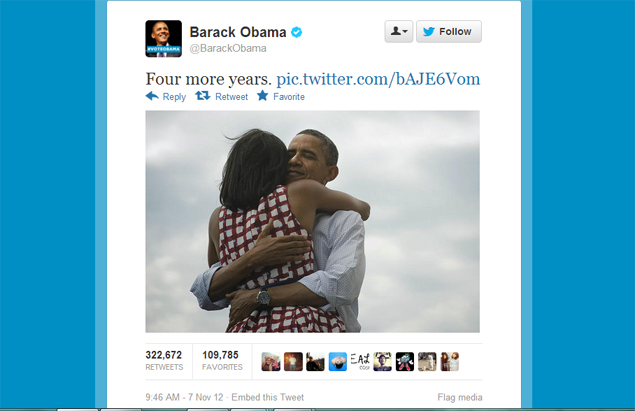 Both electoral parties took to the Twitter platform to drum up support and keep an eye on the others online tactics. With this being set as one of the closest to call elections to date, Twitter played a large part in keeping exposure to a maximum and a debate of interest with followers and supporters online. Tuesday night saw more then 31 million election themed tweets being sent, making this the most popular tweeted event in US political history ever.
Platitudes from celebrity followers and supporters came in thick and fast form the likes of Lady Gaga, Cher and Will Ferrell, all taking to the social media platform to congratulate and share their support for Obama. All in all, not only did the US election shape up to be one of the closest to call to date, but it also solidified the fact that Twitter is a reputable and highly sort-after platform for news and current events in real-time. Barack Obama not only gained the win over rival Mitt Romney and was re-elected back into the White House for a second term, but her also generated the prestigious title of most popular tweet EVER! The three worded tweet was re-tweeted over half a million times in just four hours. This surpassed the previous owner of the title of most re-tweeted, Justin Bieber, with just over 223,000. The understated tweet simply read "Four more years."
I have to thank the wonderful Red for sending me this – as it really amused me, and says alot. I'll leave you to decide for yourselves where you should be posting!
Twitter is rolling out new changes to their timeline and have been doing so since the end of September. It's all about Twitter Quality. Their plan is to make the changes slowly for members, so they can adjust over a period of time; rather than all at once. Twitter intends to allow the user to switch back and forth for a period of time, to enhance the learning curve. Unlike the large Facebook changes we have seen recently that have caused uproar, Twitter have chosen to introduce these changes softly.
Most of the big changes will be familiar to those who use the mobile applications. Mobile users have already been enjoying the enhanced versatility and control in the timeline for quite a while. As you open and hover over links, you will find in-line listings of retweets and favorites at the top of the page instead of at the bottom.
Want to check out a profile? Now instead of changing the sidebar, when you click the members name a light box will cover the page supplying all the needed information. The changes to the twitter timeline seem to make the sidebar more useful rather than obsolete as many may argue.
These new redesigns may encourage members to spend more time in twitter time line. The new threaded like conversions may seem more convenient to desktop members once they get the hang of it. You can now click an open bottom, which expands the tweet and includes replies in the display.
The redesign to the twitter timeline seems to improve conversation tracking. Most are saying that the changes are making an already easy to use social media site even easier to use.
Twitter has also changed its authentication requirements for third-party users; this will greatly improve the speed of switching between timeline and other applications for their mobile users.
Spending more time in twitter timeline can be an advantage to easy quick changes in conversations and newsfeeds. Don't forget the added in-line media feeds for your photos and videos. The open button will allow for quick back and forth replies and the inclusion of the visually important photo and video feeds.
When I first decided to launch Bright Digital Minds, I realised that I couldn't exactly go out there as a social media manager without having some social media going on myself. So in a vain attempt to make BDM look popular during the launch process, and as part of a test of this new phenomenon I had heard so much about, I decided to put my hand in my pocket for a whole £10 (just less than) and see what happened with Fiverr…
For those of you new to the Fiverr concept, you basically pay $5 for pretty much anything you want. People will offer their random services for a hugh $5… (£3.17)
So what did I order?
A brand new twitter background – see below screen shot. Needless to say I don't like it
I gave clear direction on what I wanted, logo's and also my site to give the general feel – It's a lazy effort – and has now actually cost me in time as I now have to build something myself
Just noticed the cheeky swine is using my twitter as an example of his work!!!
I should also mention here that the first order I placed actually never went ahead – the dude never replied to anything. In Fiverr's defence – they have a nifty system in place which automates messages to tell you when your order should be ready by. If nothing happens, they'll remind you it's late – then give you the option to cancel it. Nifty!
200 Facebook Fans – once again, less than impressed – it served a purpose and got me the all important vanity URL – but these fans are not relevant to me or the company or the business objectives. But for £3.17 – I'll take that hit.
500 Twitter Followers – possibly the worst of the lot… I am so miffed, no, angry about this one. Naively when I accepted the gig, I handed over my logins, not realising in the whirlwind of launching what this spammy arse would get up too. As you can see from the screen shot below – his promise of 'will add 500 Real and Active followers in your twitter account for $5′ isn't strictly correct now is it!!! Not only did I not get my 500 followers, the ones I did get were as a result of him following anyone and everyone he knew would just follow back. He ended up following way over 1000 people that have now spammed my feed…
I could have done that myself, and at least followed relevant people with the hope that my feed would at least hold insightful information! Now I have the lovely job of unfollowing all these people, and following some people I actually respect! Bah humbug!
Lesson learned! At £3.17 you really do get what you pay for. I think I'll stick to ordering crochet lions

click the image to see a bigger version
It might seem like the most obvious thing in the world, but when you set up your social media campaign, have a think about how you portray yourself. Continuous shouts about how busy you are or your recent client wins may not actually be the best way forward. Whilst the odd bit of bragging never did anyone any harm – do people really want to see you repeat your achievements over and over again? Think about how your brand is being portrayed. Similarly – continuous shouts about all your amazing products or sales or offers can do the same – you become a machine randomly blurting information. There is no opportunity for a RT or Share or even… a reply. Social media should encourage people to have a conversation with you, it should open up the lines of communication and have personality.
If your goals with your twitter and facebook accounts are to just fill the page with information in the hope that some will stick – you need to re-think what you are doing; 'Spray and Pray' to coin an old email marketing phrase just doesn't work with Social Media. The people who are your fans or potential fans are online savvy, they know how the internet works and chances are, have their own opinions of what should be found on a twitter stream or fan page – so why not ask them? Get them involved! With things like facebook questions you can easily gauge what people expect to see online – do your research and use the results!
With new monitoring and measuring tools like facebook insights, you are able to very quickly see what is working and what isn't – so make sure you use the information you have. Why not try asking questions or encouraging people to RT. Measure your response, if it doesn't work, try something else.
Before you go out all guns a blazin' – sit down, make some plans and then execute them.
If you need help or want to discuss your social media strategy, get in touch today and see how Bright Digital Minds can help you!